From general proximity solutions to high-precision positioning, Bluetooth® technology provides a range of reliable location services. Today, Bluetooth location services are widely used in a variety of scenarios, including indoor navigation and asset tracking, and plays an important role in enhancing operational efficiency and visitor experience in smart buildings. According to the 2021 Bluetooth Market Update, shipments of Bluetooth location service devices are expected to grow at a CAGR of 32 percent from 2021 to 2025.
Bluetooth Direction Finding enables centimeter-level positioning through the Angle of Arrival (AoA) and Angle of Departure (AoD) approaches and greatly improves Bluetooth location services. Based on the latest direction-finding feature, many manufacturers have already invested in the development of high-precision Bluetooth location service solutions.
BlueIOT is a solutions provider of Bluetooth location services based on the Bluetooth AoA direction finding approach, providing smart industry, warehousing and logistics, healthcare, and more with a sub-meter, high-precision location experience. I recently had the opportunity to speak with Darren Liu, product director at BlueIOT, about the use cases, market pain points, and the potential of Bluetooth AoA.
Q&A with Darren Liu From BlueIOT
Can you tell us more about your Bluetooth AoA positioning system?
The BlueIOT positioning system, based on Bluetooth® AoA technology, is ideal for businesses such as smart industry, warehousing and logistics, and healthcare facilities that can benefit from reduced costs and increased efficiency. Bluetooth AoA technology is also perfectly suited for smart supermarkets, smart culture and tourism, and smart cities that can optimize business operations while providing accurate location services to improve the overall user experience, including indoor navigation and point of interest (POI) search.
Why did you choose Bluetooth technology to power your positioning system?
As an international standard for wireless communication technology, Bluetooth® technology enables flexible and secure communication and location awareness with low cost and low power consumption between digital devices within a certain distance. Its technical characteristics were a significant factor behind BlueIOT choosing Bluetooth technology.
Based on Bluetooth AoA, the BlueIOT positioning system offers consistent, stable, and accurate sub-meter positioning in a wide range of complex use cases, greatly enhancing the availability of indoor positioning technology.
With high concurrency, low power consumption, low cost, and high compatibility, the BlueIOT system supports access to all types of Bluetooth enabled devices, including Bluetooth smartphones, tablets, and smartwatches. The BlueIOT positioning system terminals also support iOS and Android systems as well as applets and apps, which lays the foundation for precise positioning solutions to meet navigation challenges in IoT and help industries achieve location awareness. BlueIOT has opened its ecosystem to support its partners' Bluetooth terminals with just one piece of code by providing access to the partners' tagging hardware.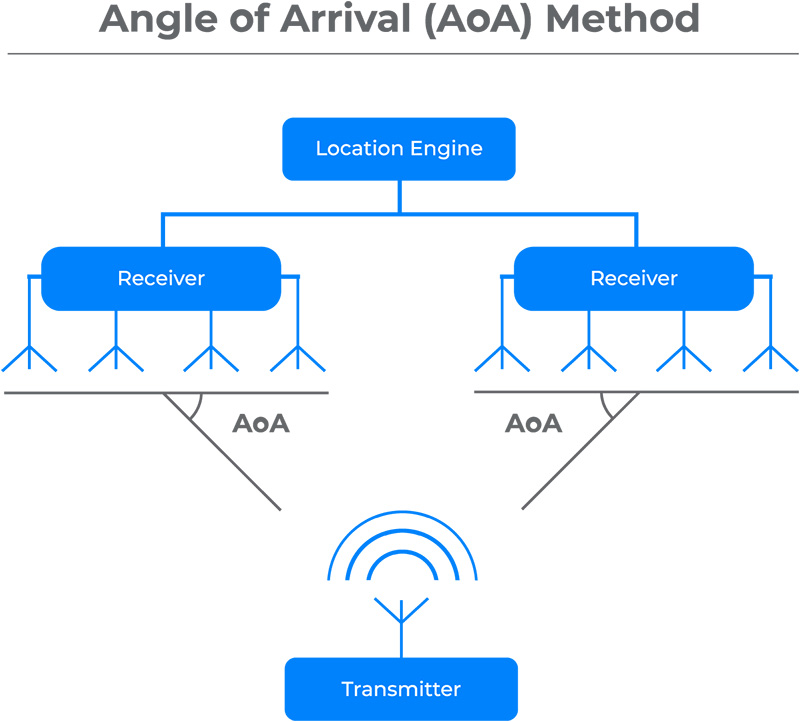 What are the main challenges BlueIOT has solved using Bluetooth AoA?
Indoor positioning technologies are facing two major challenges:
First, the market lacks sufficient knowledge about the Bluetooth® AoA approach. Bluetooth AoA is currently in the early stage of rapid development, and there are still only a few solution providers based on Bluetooth AoA in the global market, indicating that the technology is yet to be recognized in the market and has not been widely applied in many industries.
Second, it takes time to build and cover a wide range of infrastructure. The implementation of the Bluetooth AoA direction finding approach relies on external sources. Pre-deployment of stations and construction of other infrastructure are necessities. Mass adoption of Bluetooth AoA positioning systems will take time. In smart buildings, the BlueIOT precise positioning service can help retail, tourism, healthcare, and other facilities improve their user experience, optimize the efficiency of space utilization, and enhance intelligent building management.
In smart industry, the BlueIOT Bluetooth precise location service is used to manage logistics and supply chain and ensure personnel safety in dangerous operation scenarios.
In smart cities, the application of Bluetooth smart terminals and smartphones has changed the way people interact with the city. For example, in the management of shared bicycles, by installing BlueIOT's AoA base station on the city light poles, and by cooperating with the Bluetooth car lock on the bicycle, the accurate position of the bicycle can be obtained, which helps users to find the bicycle more easily and accurately and guides users to park in an orderly manner in accordance with the specified area.
In terms of smart parking, many underground parking lots have a large space and lack GPS positioning signals, which inconveniences users when parking and finding cars. By deploying BlueIOT positioning base stations in underground parking lots, mobile phones can be used when vehicles enter the parking lot from outdoors. Switching from GPS positioning to Bluetooth AoA positioning helps users easily find free parking spaces through mobile phone navigation and makes it easier to find the location of the vehicle when returning to the parking lot.
Could you give some examples of the use cases of your solutions?
In warehousing and logistics use cases, BlueIOT collaborated with a domestic forklift group to enable the positioning of thousands of forklifts in its warehouse by deploying the BlueIOT positioning system based on Bluetooth® AoA direction finding. The warehouse of the forklift company covers an area of nearly 20,000 square meters with an average inventory of over 3,000 forklifts, many of which are customized models. Due to high volume of forklifts frequently entering and leaving the warehouse every day, and the uncertainty in the storage location of each batch, the warehouse managers must spend a lot of time to find forklifts in the desired batches each day. The average time spent in locating a batch of forklifts is 10-15 minutes.
With Bluetooth AoA direction finding, the average locating time was reduced to one minute/unit, a 90 percent increase in efficiency. The positioning tag used by the forklift can last up to five years, which is less than 0.015 USD per day. This means lower overall implementation cost and ongoing costs as well as benefits for enterprises. According to customers, Bluetooth AoA provided by the BlueIOT system has significantly increased their warehousing efficiency. They will extend the technology to the production line to share the product location information between the production line and the warehouse, enable the precise positioning of forklift parts and complete automation across the process to further improve the level of refined management.
In smart healthcare, BlueIOT-powered high-precision solutions enable in-depth applications such as intelligent medical guidance, in-hospital navigation, baby-theft prevention, patient positioning, medical equipment asset management, and medical waste management. By putting the healthcare positioning bracelets, powered by BlueIOT, on patients' wrists, a university hospital not only enables high-precision positioning of personnel to help medical and nursing staff with refined and efficient management but can also use Bluetooth technology to send medical information to patients and better provide each patient with a comprehensive medical service journey and improved consultation experience.
In playground use cases, BlueIOT cooperates with many indoor playground merchants in China to integrate its BlueIOT high-precision positioning system into children's playgrounds to effectively solve playground safety and management concerns. When children wear positioning bracelets in the playgrounds, parents can view their children's location and area information in real time with one click through a WeChat applet and quickly find them with high-precision indoor navigation. This changes the experience of bringing children to playgrounds from a potentially anxious event that has parents looking for children all over the playground to that of a joyous relaxing moment. Moreover, these bracelets alert children according to the pre-set alarm rules before they enter dangerous areas or other abnormal situations, ensuring their safety at all times. The massive data flow from positioning tags can be used for the background real-time statistics of the number of people in each area and the heat map of the venue, helping merchants to dynamically adjust operation plans and implement intelligent venue management. To summarize, a series of capabilities based on high-precision positioning technology provides a pleasant experience to children and free parents and merchants from worries.
What are the potential and new possibilities for the application of the Bluetooth AoA in the commercial and industrial markets?
Indoor V2X (Vehicle-to-Everything) location service solutions based on Bluetooth® AoA will unlock potential in the commercial market. With the current rapid socio-economic development and growth in the number of vehicles in cities, indoor parking lots are gradually becoming larger and multi-floored. However, due to the diverse design, complex building structure, unfamiliar terrain, and other factors, people are likely to lose their way to parking spaces, forget the specific location of their cars or route to the parking space, and waste time in the parking lot, which is a huge inconvenience. Bluetooth positioning technology provides real-time positioning for an indoor parking navigation system. It is used to develop apps incorporating the Bluetooth positioning function to provide users with indoor parking navigation, plan driving routes in the parking lot, and offer parking information, which helps users to find parking spaces or their cars quickly and easily.
Based on V2X empowered by the high-precision location services using the Bluetooth AoA direction finding approach, and with the intelligent transformation of the parking lot, V2N (vehicle-to-cloud), V2I (vehicle-to-infrastructure), V2V (vehicle-to-vehicle), and the existing onboard sensing equipment will be further combined for automatic valet parking in underground parking use cases, paving the way to the autonomous cab's one mile front.
In the industrial market, Bluetooth AoA will deliver important value in smart manufacturing. High-precision location data, as an important component of smart factory data flow, is one of the three major data indicators of time, space, and state in the business flow of smart factories. The real-time accuracy and coverage integrity of spatial location data are important evaluation points for the front-end sensing quality of a smart factory. The high-precision positioning management system based on indoor positioning technology offers precise positioning of people, vehicles, objects, and materials in the factory. Indoor positioning technology considers the difficulty and pain points in management in different types of manufacturing enterprises and significantly improves the factory's lean production and refined management through seamless tracking, intelligent deployment, and efficient synergy.
Many business sectors like automobile assembly, electronics manufacturing, and home appliance manufacturing are actively introducing indoor positioning technology for efficient factory management. The positioning technology enabled by Bluetooth AoA direction finding will play an important role in the efficient management of manufacturing personnel, material tracking, traceability in production processes, search and error prevention of adaptive tools, and other major aspects.
From: www.bluetooth.com/blog/adopting-aoa-direction-finding-provides-a-high-precision-location-experience